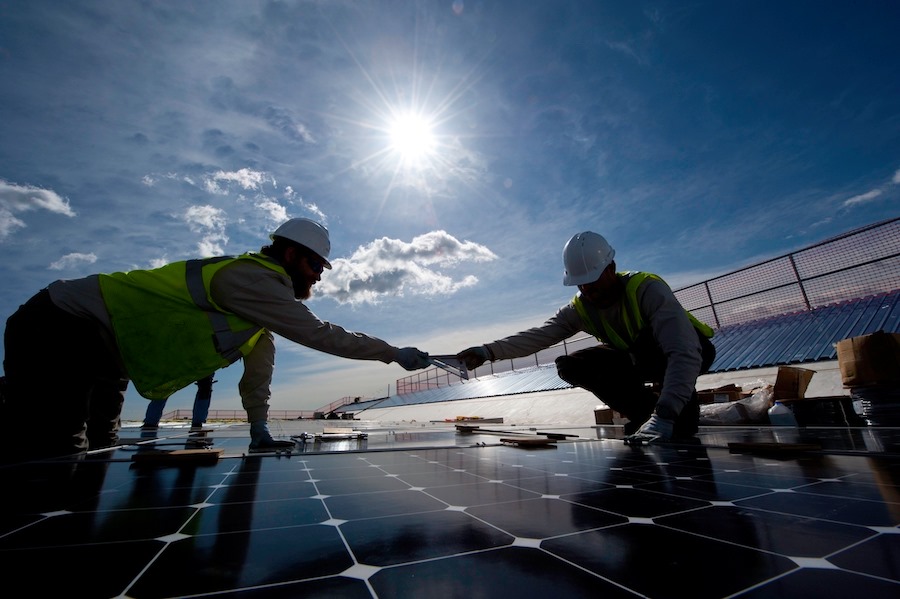 Diversity, Equity, Inclusion, and Justice Certification Program
Frequently Asked Questions
What is the program?
A best practices certification program that encourages energy companies to improve diversity, equity, inclusion, and justice (DEIJ) within their company and the broader community. The program was designed using SEIA's Diversity Best Practices Guide and other evidence-based materials to create a program that rewards companies for making progress and taking actionable steps. 
Is it for individuals?
No, the certification program is for the company/organization level. While you will have a designated representative submit information on your company's behalf, the certification applies to the organization, not the individual.
How does it work?
The program is designed must take holistic steps toward improving diversity, equity, inclusion, and justice within their companies and communities.
Participating companies provide supporting materials showing their progress on a particular topic. The companies will then be evaluated by the SEIA team and privately given a score. The points earned for each module, in sum, determine your overall program achievement (Bronze, Silver, Gold, or Platinum). All companies must complete the Bronze level courses before proceeding to the customized Silver, Gold, and Platinum levels.
Bronze Level modules:
Companies upload information into the module through the form fields and file upload feature
The system automatically scores their responses
We receive a notification of their submission
We review this submission and make any adjustments to the scores
If we have additional feedback it is provided to the participant
The intent with bronze level courses once that users will be able to complete the modules without a significant amount of time invested (unlike the higher levels of certification, which require significant time and resources to complete) – per input from the DEIJ Council and Working Group
Silver, Gold, and Platinum Level modules:
Companies upload information into the module through the form fields and file upload feature
The system DOES NOT automatically score their responses
We receive a notification of their submission
A certified diversity professional will review this submission and provide custom feedback and scoring for each submission, including feedback on areas for improvement
Points/Scores are uploaded into the system and sent via email after the review is complete
Companies may withdraw from the program at any time. Proceeds are dedicated to administering the program.
How does my organization get certified?
In order to achieve each level of certification, you will need to first complete the introductory module. Then, you can access the Bronze Level Certification courses, which contain actions that expected of all companies engrained in DEIJ work. Companies achieving a bronze level certification demonstrate an understanding of the fundamentals of diversity, equity, inclusion, and justice and commit to taking future actions.
Beyond the Bronze Level are Silver, Gold, and Platinum. For these levels, you do not need to complete EVERY module in order to achieve each certification level. This allows your company to customize its DEIJ journey, as each organization, the employees that work for it, and your organization's role within the industry is unique.
I've achieved Bronze level and want to get a higher level of certification. What do I do?
Once you have achieved your Bronze level certification, you can immediately begin pursuing higher levels of certification through additional modules. Beyond the Bronze level, you can customize your journey, selecting the modules that align with your company's goals and business model.
This means that throughout the course of a year, you could advance from Bronze to Silver, Silver to Gold, and Gold to Platinum. We will continually track your progress and help you take steps to achieve the next level of certification.
What If My Score Is Too Low to Receive the Certification Level I Desire?
When you receive notification of your score, SEIA will also provide recommendations on areas for improvement, where you can potentially score higher in future iterations of your certification.
If you wish to achieve a higher score then you have achieved upon your initial submission, please take the corrective/suggested actions provided to you by SEIA. Alternatively, you can select another module, which can allow you to earn additional program points, and potentially progress to the next level.
What benefits come with this type of recognition?
Annually, SEIA will publish aggregate data and the names of each company in the respective categories. We will contact you about opportunities to be profiled about your work in the report or report release.
Environmental, Social and Governance (ESG) work, including diversity, equity, inclusion, and justice programming, has become increasingly important in the private sector as companies evaluate their vendors and partners. In addition to showing that your company is a leader in the industry, you can use the certification badges on your website, marketing materials, and in responding to client inquiries.
How often do we renew?
Your certification is valid for 1 year from the date of achievement. We recommend that you begin the renewal process 60 to 90 days before the expiration of your certification to ensure you have ample time to complete any additional modules you wish to pursue (if attempting to renew at a higher certification level), and provide a buffer for processing/review time.
Is the information I submit confidential?
All responses to this program will be kept strictly confidential. Data will only be reported only in aggregate form or in a manner that does not allow individual responses to be identified unless express permission is obtained from your company representative.
How Long Does It Take?
Each journey (and thus the time it takes) is different. The certification program is designed to review where you currently are in your DEIJ journey. We encourage companies to review the list of action items prior to beginning the certification program to ensure the most expeditious completion process possible. However, companies can also use the certification program as a "to-do" list, determining which steps they want to work on next, reviewing the resources provided by SEIA, and updating their account with progress as it is made.
How much does it cost?
The cost of the program will vary depending on the level of certification you seek and number of modules you access. Below is a range of costs for budgeting purposes:
Estimated Costs
| | | | |
| --- | --- | --- | --- |
| Bronze | Silver | Gold | Platinum |
| $600 | $1,350 | $2,400 | $4,350 |